ネットワーク
アフターサービス
アフターサービスは
最強の営業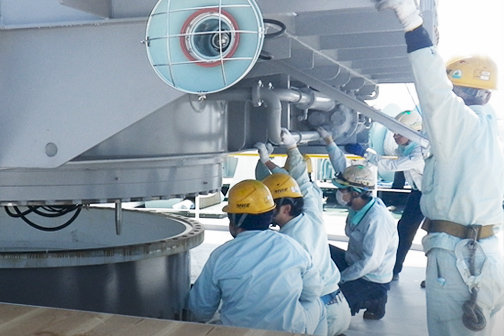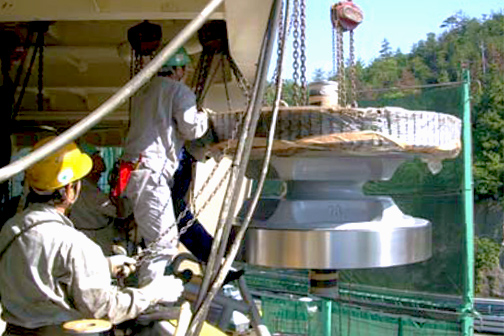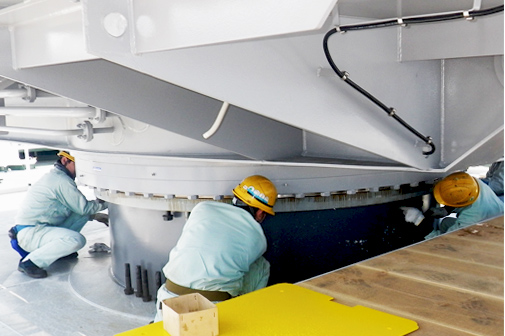 当社の強みは、徹底したアフターサービス。
世界中で活躍する当社製品を搭載した船舶がいつでも安心して航海できるように、
国内はもちろん世界各地にサービス拠点を設け、スピーディで細やかな対応を可能にしています。
修繕部品のストック工場も有し、短納期での供給にも努めています。
IoT(Internet Of Things)の技術を活用し、リモートメンテナンスの技術・サービス構築にも取り組んでいます。
また、過去のトラブルをAI(人口知能)により解析し、真因把握の高度化・迅速化にも取り組み始めました。
今まで培ってきた経験と現代の技術を活用し、"アフターサービスは最強の営業"を追求し続けます。
ネットワーク
眞鍋造機では、いつでもどこでも安心していただけるよう、世界各国の拠点と提携を結び迅速なサービスをご提供できる体制をとっています。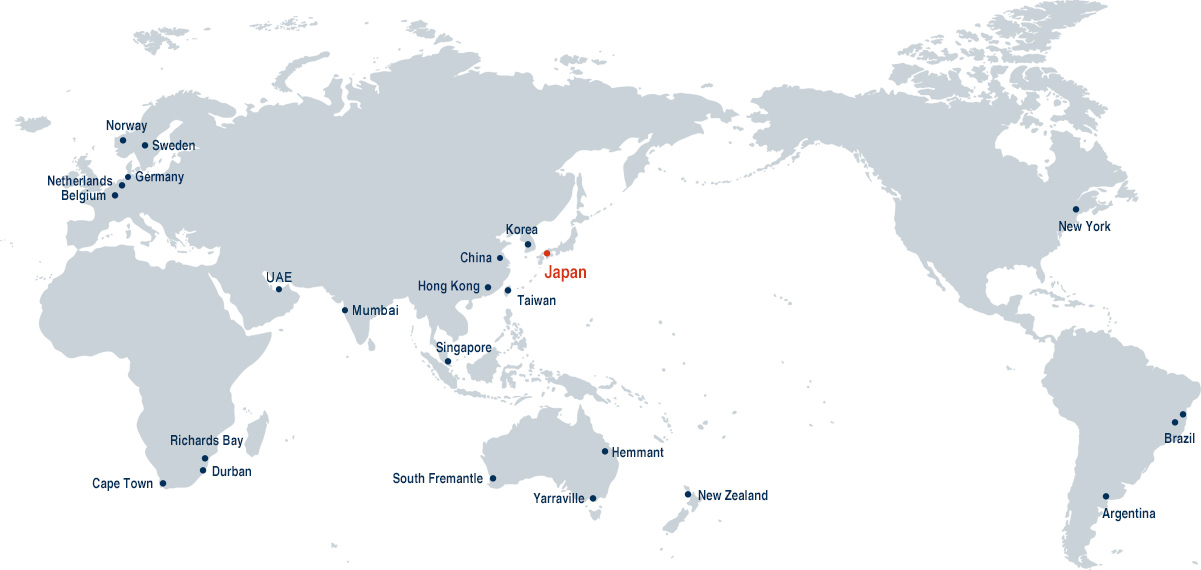 MANABE ZOKI Co., Ltd.
633-3 Takabe, Imabari, Ehime
Post Code:799-2113
Tel:+81-898-41-9217 Fax:+81-898-41-6568
Marine Enterprise Co., Ltd.

1-1, 5-chome, Minatoshima-Nakamachi, Chuo-Ku, Kobe, Japan
Post Code: 650-0046
Tel: +81(78)302-0171 Fax: +81(78)302-0177
E-mail: office@marient.co.jp
MANABE Global Partner
Taiwan
MASFRIEND CO., LTD.
6F, NO.39 , Chung Hsiao,East Rd.,Sec.1,
Taipei 10049, Taiwan
Tel:+886-2-3322-1568/2328/2488 Fax:+886-2-3322-4688
E-mail:ship@masfriend.com.tw / masfriend@hotmail.com
Greece and Cyprus
Sea Ergon Marine Ltd. (Exclusive)

5, Zoodochou Pigis Street
185 38 Piraeus, Greece
Tel:+30-213-03-17-542 Fax:+30-210-41-01-008
E-mail:info@seaergon.gr
Germany
Kehdinger Kran-Service GmbH
MANABE Global Network
Japan
China
Kehdinger Kran-Service GmbH
FOSES
Hong Kong
Marico Engineering (H.K.) Ltd.
Korea
Marine Enterprise Co., Ltd., Korea
Singapore
Daishin Engineering Pte Ltd
Taiwan
Chung Hwa Machinery Works
Fu Ko International Enterprises Co.,Ltd. (富國國際企業有限公司)
No.34, Ln. 5, Xinsheng Rd., Kaohsiung City 806, Taiwan (R.O.C.)
Tel:+886-7-815-3133 Fax:+886-7-815-3135
E-mail:fuko.tsai@msa.hinet.net
India
C-MET ENGINEERING INDIA PVT.LTD.
28 Rex chambers, W.H. Marg, Ballard Estate, Mumbai 400001, India.
Tel: +022 2 267 0068 Fax: +022 2 265 9780
Belgium
Netherlands
SAM Electronics Nederland B.V. ex STN ATLA
Norway
Sweden
Argentina
Ingeneria De Equipos S.A.
Brazil
Classic Servicos Tecnicos Ltda.
Coimbra Ltda.
USA
Australia
Hydraulic Distributors Pty Ltd.

49 Wellington St, Riverstone NSW 2765, Australia
Minepro Electrical Services (ex-George Gilbert & Co.)
Breakaway Electrical Services Pty. Ltd.
Reads Electric Co., Pty., Ltd.
New Zealand
Gouk & Sullivan (1971) Ltd.
Republic of South Africa
UAE
Nico Internatinal /Topaz Marine Engineering Division
C-MET MIDDLE EAST SHIP REPAIRING LLC
Jebel Ali Indl Area 1, P.O Box : 117101, Dubai, UAE
Tel: Telefax : +971 4 8847151
ボートダビット窓口
世界に広がるネットワークでいつでもどこでも、あなたの船をサポートします。
海外での点検
海外での点検につきましては、下記会社が窓口になっています。連絡する際には、一度、弊社にご連絡頂きますようお願いいたします。
弊社にご連絡いただいた後、ISSマシナリーサービスリミテッド様をご紹介し、その後、ISS様にて対応していただく形をとらせていただきます。
Osaka Kasen Bldg, 6-8 Kawaramachi 4-Chome, Chuo-Ku, Osaka, Japan
Post Code: 541-0048
Tel: +81 6 6203 5250 Fax: +81 6 6203 5195
E-mail: inspection@iss-shipping.com
国内での点検
日本国内における点検につきましては、弊社営業窓口へご連絡ください。
[TEL:0898-41-9217]
MANABE Boat Davit Global Network
India
Cargo Gear Services (I.) Pvt. Ltd.
Vietnam
Saigon Maritime Services Co.
Mermaid Maritime Ltd. (*Mermaid Safety Services Limited [Thailand])
Taiwan
Kaohsiung
Fine Ocean Marine Industrial Corp.
Korea
RKyong – In Safety Services Co., Ltd.
Dongwoo E. N. T Co
Singapore
Eurofibre Engineering Pte. Ltd.
Thailand
Mermaid Safety Services Ltd.
Philippine
Anzen Trading & Industrial Service
Malaysia
Port Marine safety Services SDN BHD
China
Ocean Marine Services Company Limited
Qingdao Kuahai Shipping Equipment
Italy
Greece
Turkey
MUGESAN Engineering & Marine Specialist A. S.
France
Germany
Egypt
European Agencies & Maritime Works
Estonia
Spain
Australia
Russia
Ecuador
Parfi Ingenieros Inspectores Asociados CIA. LTD
Chile
Chile Services Management Ltd.
Brazil
ATRAC Rio de janeiro
ATRAC Santos
Argentina
U.S.A.
Dockside Machine & Ship Repair